Our History
---
Inspiration for the Oak Park River Forest Community Foundation came from concerned citizens: attorney Moore Peregrine, businessman Bob Follett, Oak Park Village attorney Art Thorpe, and others. Their initial goal was to improve derelict housing: in the mid-1950s residents watched a grand Victorian home along Oak Park Avenue deteriorate. Although that house was demolished before sufficient funds could be raised to save it, a small group of civic leaders and key donors forged ahead to create an organization that looked beyond housing to a broader desire to preserve the integrity of our villages.
The Foundation was originally created as a charitable trust among five local banks on December 10, 1958, at a gathering attended by both village presidents, the high school superintendent, directors of the Chamber of Commerce and the Community Welfare Council, and representatives from each of the five local banks.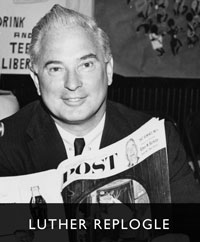 In May 1960 Luther Replogle, the Foundation's first president, celebrated the Community Foundation's official launch, noting, "Our board of directors is confident that the Foundation will be of great help in solving community problems and aiding many worthy projects in the years ahead."

The assets remained in trust but it was not until 1986 that community impact began on a significant scale, with the election of Nancy Follett as president of the board. The board decided that the Foundation should become more active in addressing long-term needs of area charities. Follett recruited Ann Pepper to serve as the Foundation's first executive director who worked part-time out of her home from 1989 to 1993. By 1994, the Foundation's assets had increased to slightly under $500,000.
An important change began in the mid-nineties, with a shift from a trust structure affiliated with the five local banks to a corporate not-for-profit structure. The new structure provided greater flexibility in the Foundation's ability to accept gifts and manage funds.
With these changes, the Foundation began awarding more project grants in the community. The Foundation strengthened its relationships with community organizations in other ways, too. When Family Services (now Thrive Counseling Center) wanted to launch an endowment program, for example, the Foundation served as a repository for contributions and fund management. During the late 1990s, the Community Chest placed its endowment with the Foundation, as did the Nineteenth Century Club and the Oak Park-River Forest High School Scholarship Fund.
In 2005 the Community Foundation established the "Making a Good Gift Better" program. Funded by an anonymous donor, it encouraged organizations to strengthen their operational and development capacities by building permanent endowments to attract planned gifts and provide ongoing, predictable revenue streams. Thirteen agencies participated, ranging from the Animal Welfare League to the Wonder Works Children's Museum, resulting in more than 600 donors contributing to a net increase of $573,000 in local agency endowments. Currently, thirty local social impact organizations have funds with us.
Also in 2005, another opportunity arose for the Oak Park-River Forest Community Foundation. The Community Foundation was one of an initial eighteen community foundations in Illinois to be chosen for a Communityworks grant tendered by the Grand Victoria Foundation. Community members rose to meet this challenge grant, culminating in the Communityworks endowment fund of $4.5 million at the Foundation. Through an advisory board comprised of institutional and civic leaders, Communityworks has established an environmental sustainability plan, PlanItGreen, a community leadership program, Leadership Lab, and Success of All Youth, a community collaboration, empowering every youth in our community to reach his or her full potential.
In 2011, the Foundation became a trustee of the Russell and Josephine Kott Memorial Charitable Trust. The Kott Memorial Charitable Trust honors Russell and Josephine Kott, and provides annual funding to support a range of charitable organizations improving the lives of individuals, with an emphasis on services for older adults. The Trust supports the Kott Gerontology Scholars Program, which trains and prepares interns in skills for a career focused on creating and delivering services to senior citizens.
In 2013, the Foundation further enhanced its programming for area social impact organizations through Impact Excellence, an ongoing series of seminars, conferences and training to build organizational capacity.
In 2015, four unique giving group funds were established: Entrepreneur Leaders in Philanthropy, NextGen Leaders in Philanthropy and a new focus for both the Future Philanthropists Program and Women Leaders in Philanthropy, celebrating its 20th year. These giving groups provide philanthropic education and collective impact grantmaking for individuals with similar affinities.
In 2018, Antonio "Tony" Martinez, Jr. became president and CEO of the Foundation. Under Tony's leadership, the Foundation enhanced its mission and vision to advance a racially just society and equitable outcomes for residents of Oak Park, River Forest and surrounding communities.
In 2020, the Foundation created the Rapid Response and Recovery Fund in response to the COVID-19 pandemic, mobilizing more than $1.2 million in resources to agencies fighting to provide daily, ongoing support to our most vulnerable neighbors: those struggling with food insecurity, permanent housing, and health concerns.
In 2022, the Foundation released the Community Voices report, the culmination of two years of work by the Foundation's board and staff, in collaboration with a range of organizations and community members based on mutually trusting relationships, to determine key priority areas where the Foundation could make the greatest impact in order for all members of our community to thrive and prosper. The Foundation met with community members throughout the west Cook County region to learn more about the challenges they face and the opportunities to help each other, and conducted in-depth data research and analysis to support the four key priority areas and solutions shared by the community members.
As we look to the future, the Oak Park-River Forest Community Foundation offers leadership and a platform for community stakeholders to collaborate and address overarching issues; provides philanthropic advisory services to donors and manages charitable assets on donors' behalf; and helps area nonprofit organizations and programs succeed through training sessions, capacity grants and community grants in the areas of education, youth development, housing stability and homelessness, arts and culture, and health. We seek to unify and inspire community members to mobilize resources to advance a racially just society in which all members of our community thrive and prosper.
We invite you to join us in making this goal a reality by donating today.